The Pokemon Company has announced that the Hidden Fates expansion for the Pokemon Trading Card Game will be released on August 23rd.
There are more than 150 cards in the Pokemon TCG: Hidden Fates expansion, including the first trio in the TAG TEAM trio: Moltres, Zapdos, and Articuno-GX, in addition to eight new Pokemon-GX monsters. A total of 68 new cards will be included in the expansion, with the remaining cards described as the "Shiny Vault" subset, which includes "Secret Rare" cards, Shiny Pokemon, and a collection of full-art Trainer cards from past Sun & Moon expansions. All addition to the 94 cards in the Shiny Vault, all 94 of the cards will feature special etched artwork.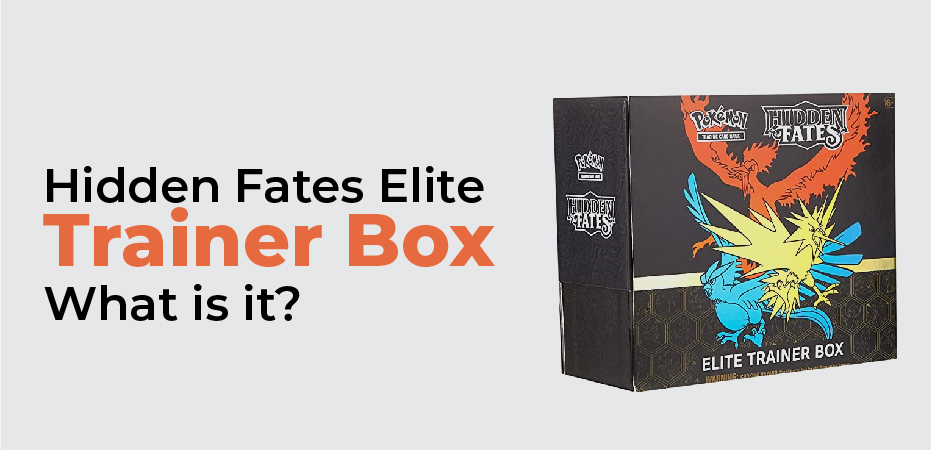 Hidden Fates Elite Trainer Box: What is it?
This ETB includes everything you need to get started with the TCG. The box contains dice, sleeves, ten booster packs containing ten cards each, 45 energy cards, markers, and a guide to playing the game.
As part of every package, you will also receive a limited edition full art Moltres, Articuno, and Zapdos GX card, which is extremely rare.
Hidden Fates TCG set was initially released in 2019 and quickly became a fan favorite, as it included many fan-favorite pokemon such as Charizard and the Shiny Vault.
A shiny vault contains variations of specific Pokemon that are shiny in nature. It is possible to get your hands on a Shiny Charizard or a Mewtwo in this set.
This resulted in a frenzy among the fan community, with the ETB selling out lightning-fast along with Hidden Fates booster boxes and packs.
In spite of its popularity, the set wasn't reprinted until this year. As a result of the limited availability of the set, its value has soared, making this a lucrative box for many.
What Are the Benefits of The ETB?
The set is definitely worth investing in just from a fan perspective. There are some standout GX cards in the TCG set, in addition to some stunning shiny cards. Pokemon fans who appreciate the older generations of Pokemon should definitely pick up this set.
Likewise, you should consider this set from a monetary perspective. Since its release, the Hidden Fates Elite Trainer Box has only increased in value.
If you were to purchase one through e-commerce websites such as eBay, you would be looking at paying between $100 and $110, which is about $20-30 over the retail price.
Unfortunately, every retailer has run out of ETBs. If you want to find ETBs, you should check sites such as eBay. Although it may seem that this is not a good deal at face value, the truth is that it is.
It was not long ago that Hidden fates ETB sealed started to double and even triple in value before the original reprint. The value of the set will likely increase exponentially as the set ceases printing again, and the box will be profitable as a result.
Therefore, holding on to the box if you are successful in acquiring one could prove to be quite profitable in the long run. Of course, the real value comes from the cards inside the box.
Is the Hidden Fates Elite Trainer Box Profitable?
There are a number of chase cards in the ETB, including a Glaceon GX, a Mewtwo GX, and, most importantly, a shiny Charizard GX.
A card like the Wizard of Oz is the most valuable card in this box, and it is a collector's dream. The card sells for over $600 currently, and if graded by professional collectors, it can sell for over $1300 when graded.
Additionally, you can sell other rare cards for as much as $130 raw if you manage to pull Glaceon GX or Cynthia.
However, it is important to remember that these cards are a matter of luck. There are other cards in the shiny vault that have value aside from the rare shiny GX cards.